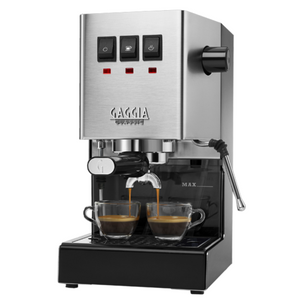 Overview
The choice of home baristas the world over for decades, the 2019 Gaggia Classic Pro improves on an already stellar machine by introducing an all new professional two hole tip steam wand perfect for latte art quality milk steaming, an improved drip tray, brand new rocker buttons and indicator lights, an updated case and more.
It's a machine made to unleash your inner barista at home.
Made in Italy, the Gaggia Classic Promanual espresso machine is the perfect combination of tradition and Espresso quality, cased in a timeless stainless steel body. Designed for home baristas looking to fine-tune their coffee making, the pro is capable of delivering exceptional espresso shots, great latte art and cup after cup of a traditional Italian coffee experience at home.
What's Included
58mm Professional Portafilter
Single and Double Pressurised and Unpressurised Baskets
Tamper
Classic Steam wand